Order "The Miracle Is" Today!
ON SALE DECEMBER 1, 2008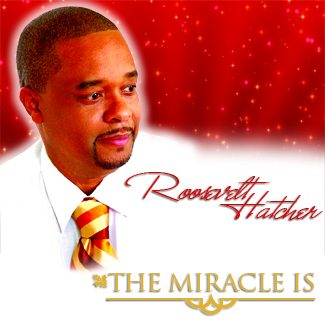 Symphonic Strings, blended with acoustic and electric guitars and mellowed with the delightful combination of the saxophone and brilliantly unique vocals are the ingredients of a true holiday delight.
Gospel Balladeer Roosevelt Hatcher has ingeniously prepared a phenomenal holiday album just in time for the Christmas season. The Album has been deemed "The Miracle Is".
For more than a decade the Birmingham native has captivated audiences with his remarkable vocal gift. He has endeared them with his humble spirit and passionate performances. Roosevelt adds warmth to the cold holiday season through 7 holiday favorites and an original tune penned by Marc Raby of AMRAE Entertainment.
The album was produced by Marlon Spears of Spears Sound Productions and manages to exude an array of styles that will certainly delight the listener in many ways. Also featured on this dynamic album is Dwight Houston, a veteran musician who has played professionally with a roster of legends including Nancy Wilson, Pearl Bailey, Herbie Hancock, Gladys Knight, Lattimore, and Millie Jackson. Roosevelt provides a fantastic display of diversity, unity and holiday cheer through this project. The album includes favorites such as Silent Night, The First Noel and Hatcher's unique rendition of Donny Hathaway's "This Christmas".
Although the album isn't available in-stores you can indeed own it for yourself on line by visiting either iTunes, Rhapsody, Amazon, Emusic or Napster.com. You may also purchase the album via the online home of Roosevelt himself at www.roosevelthatcher.com.